LYDGALLERIET
Retrospective 2005-2020
The Lydgalleriet Retrospective presents a series of conversations, accounts, reflections and responses to the activity of the gallery since it's first emergence in 2005. Appearing for the first time in English language translation, the texts and images chart the growth of Lydgalleriet from the early years up until the present day. The book presents an important survey of Nordic sound art and reflects upon wider themes within sonic culture, with contributions from multiple notable voices within the field. This book, first launched here at Bergen Art Book Fair, coincides with the gallery's move to its own purpose built space in Strandgaten, Bergen. The book is in digital form and is free to access and download from retrospective.lydgalleriet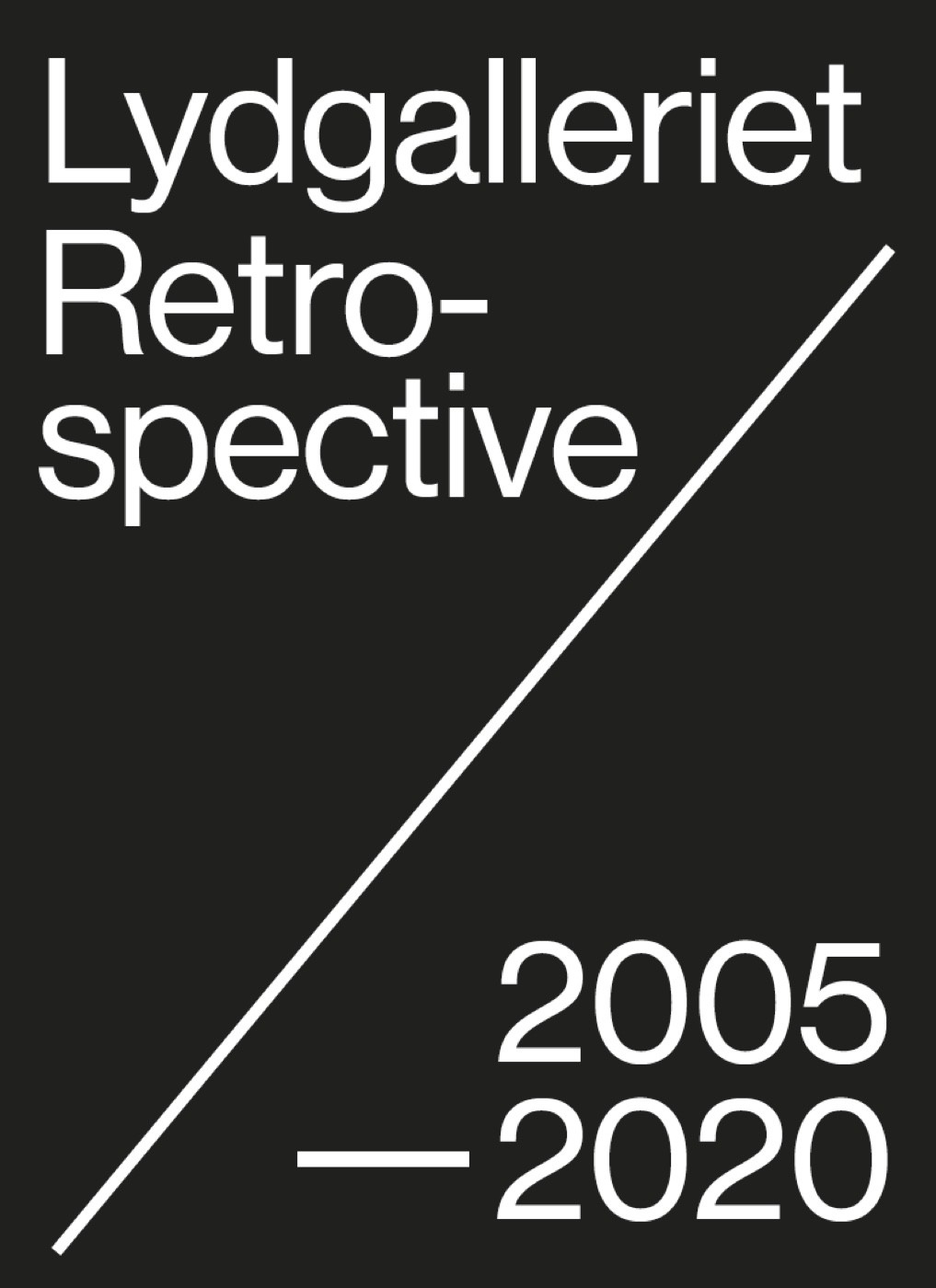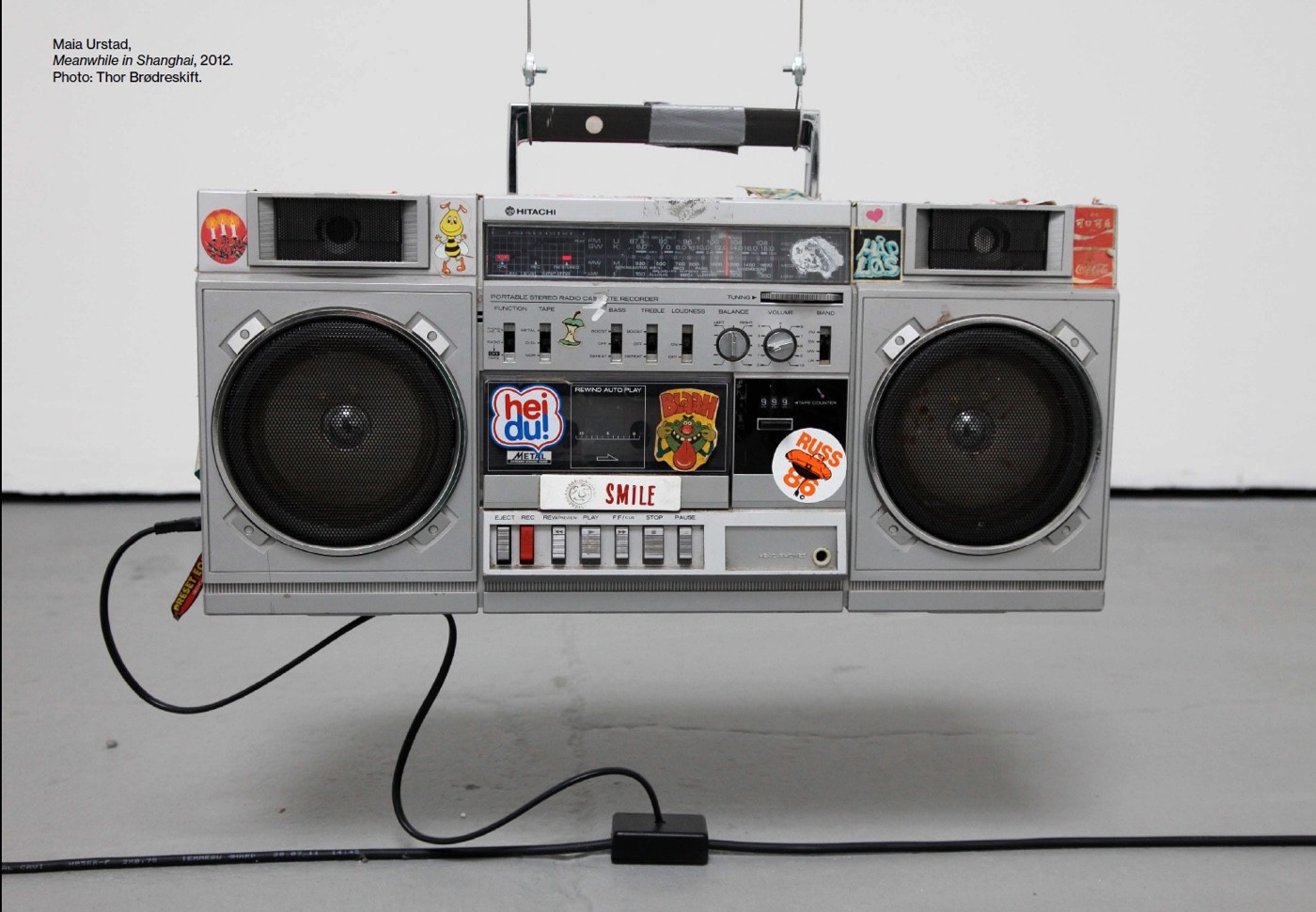 Lydgalleriet Retrospective 2005-2020 is organised into four thematic chapters:
THE PROPERTIES OF SOUND introduces several key aspects and concepts in Nordic sonic culture. Bjønar Habbestad unravels some of the various threads of sound art in relation to the early years of Lydgalleriet in 'Negotiations in Space and Time: About the Porous in Sound Art'. Following this a conversation between Sissel Lillebostad and Carsten Seiffarth discuss the links between Lydgalleriet and singuhr hoergalerie in Berlin. Natasha Barrett's site specific work Adsonore is discussed in 'The Sound in the Tower' by Sissel Lillebostad.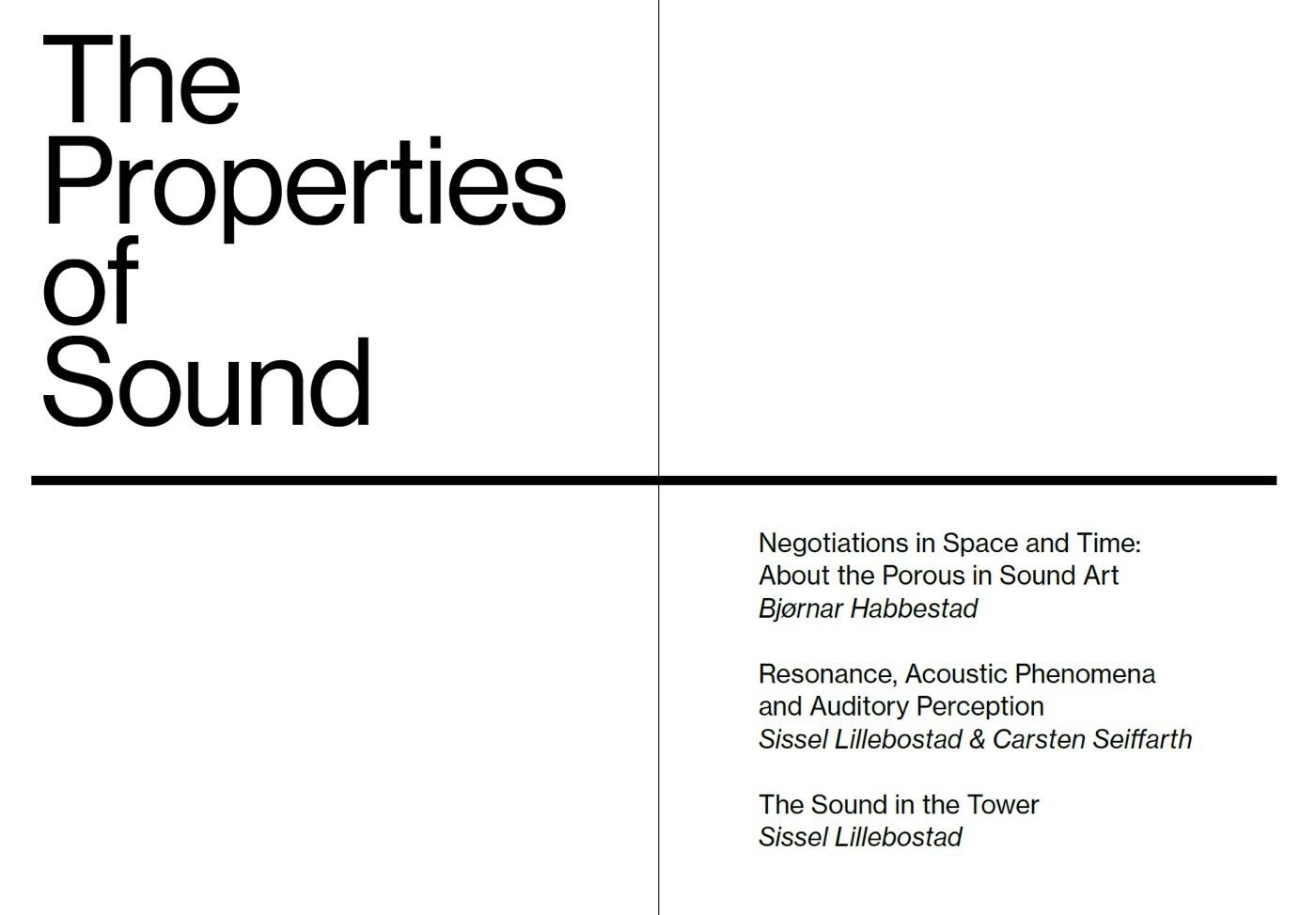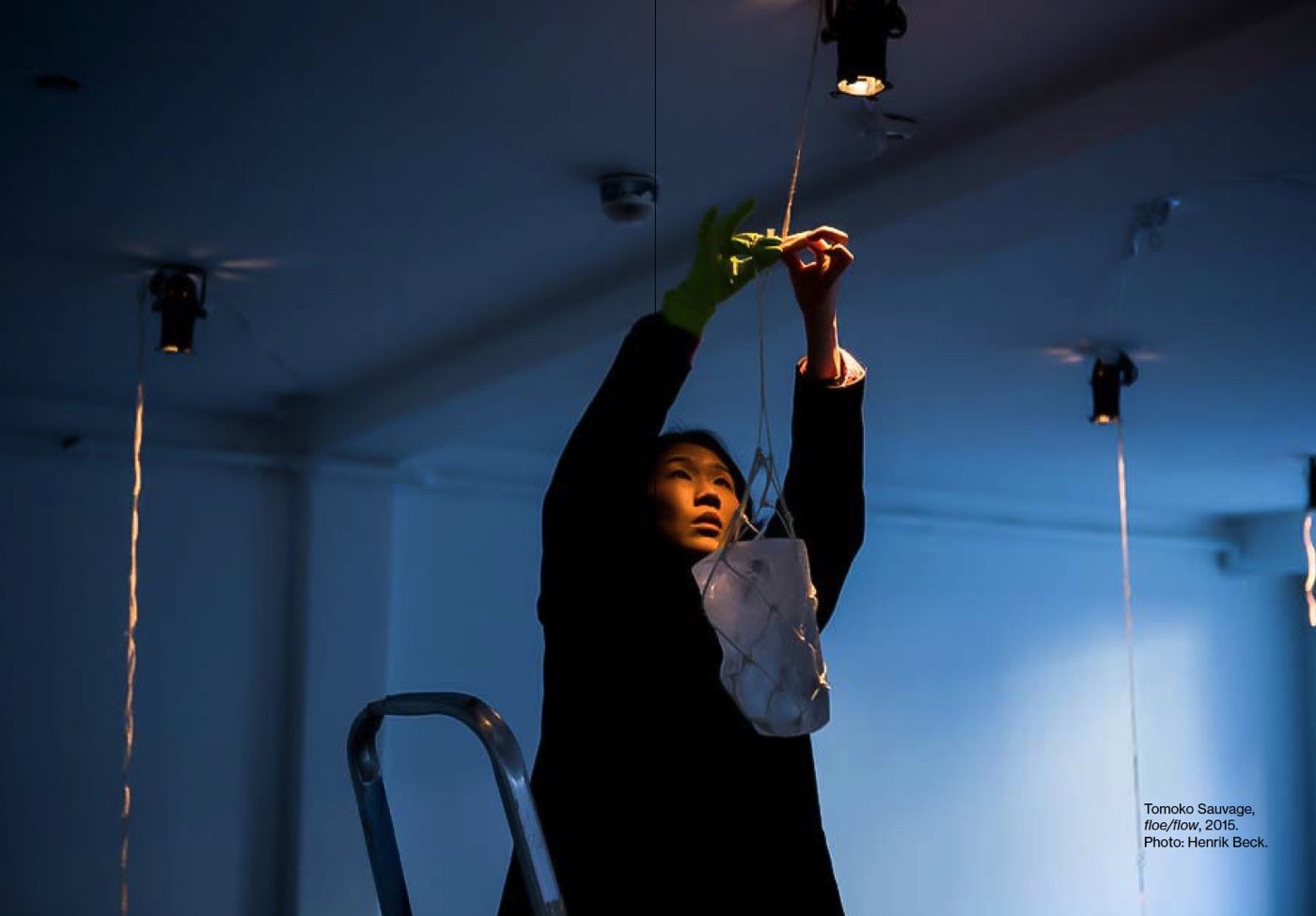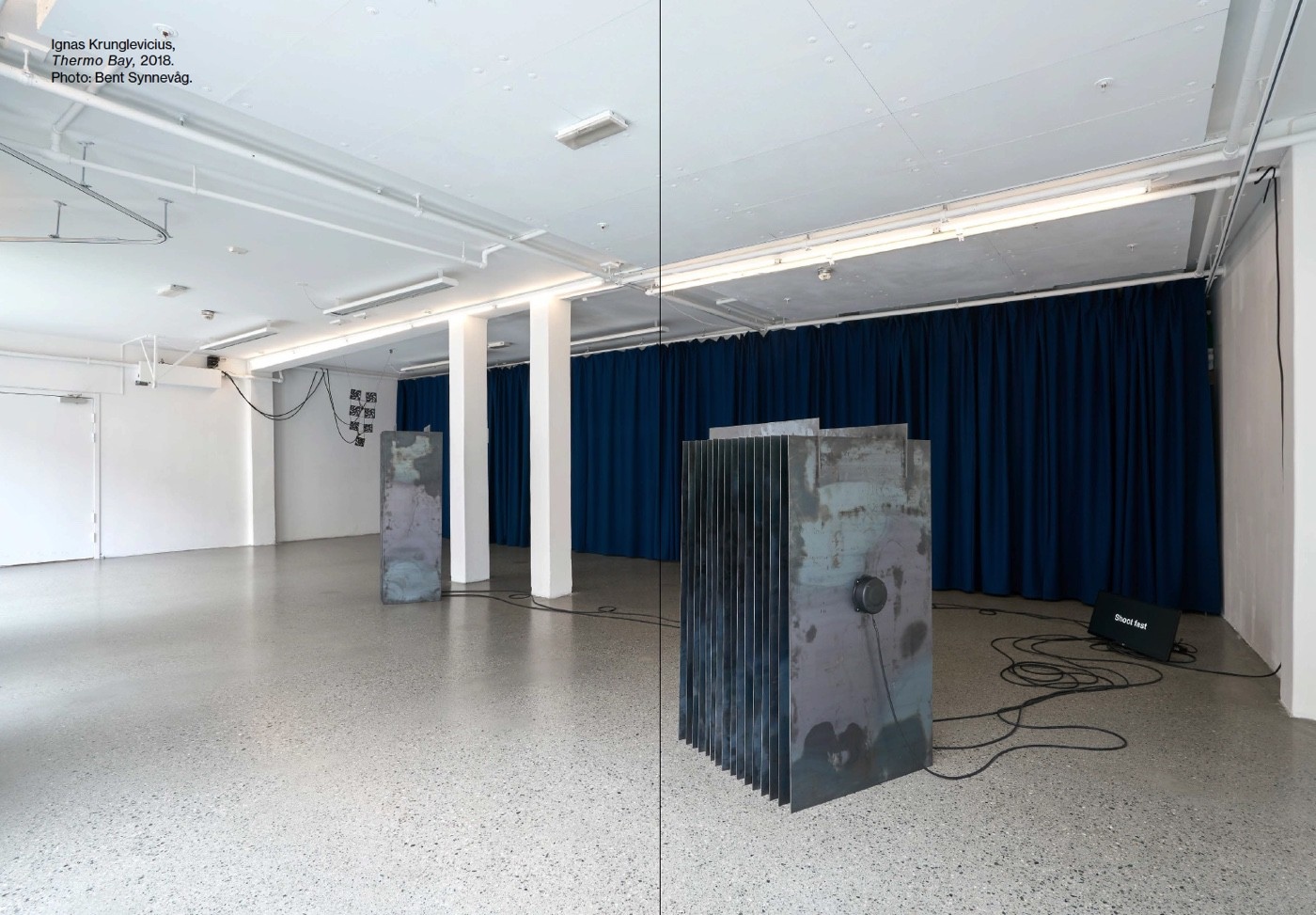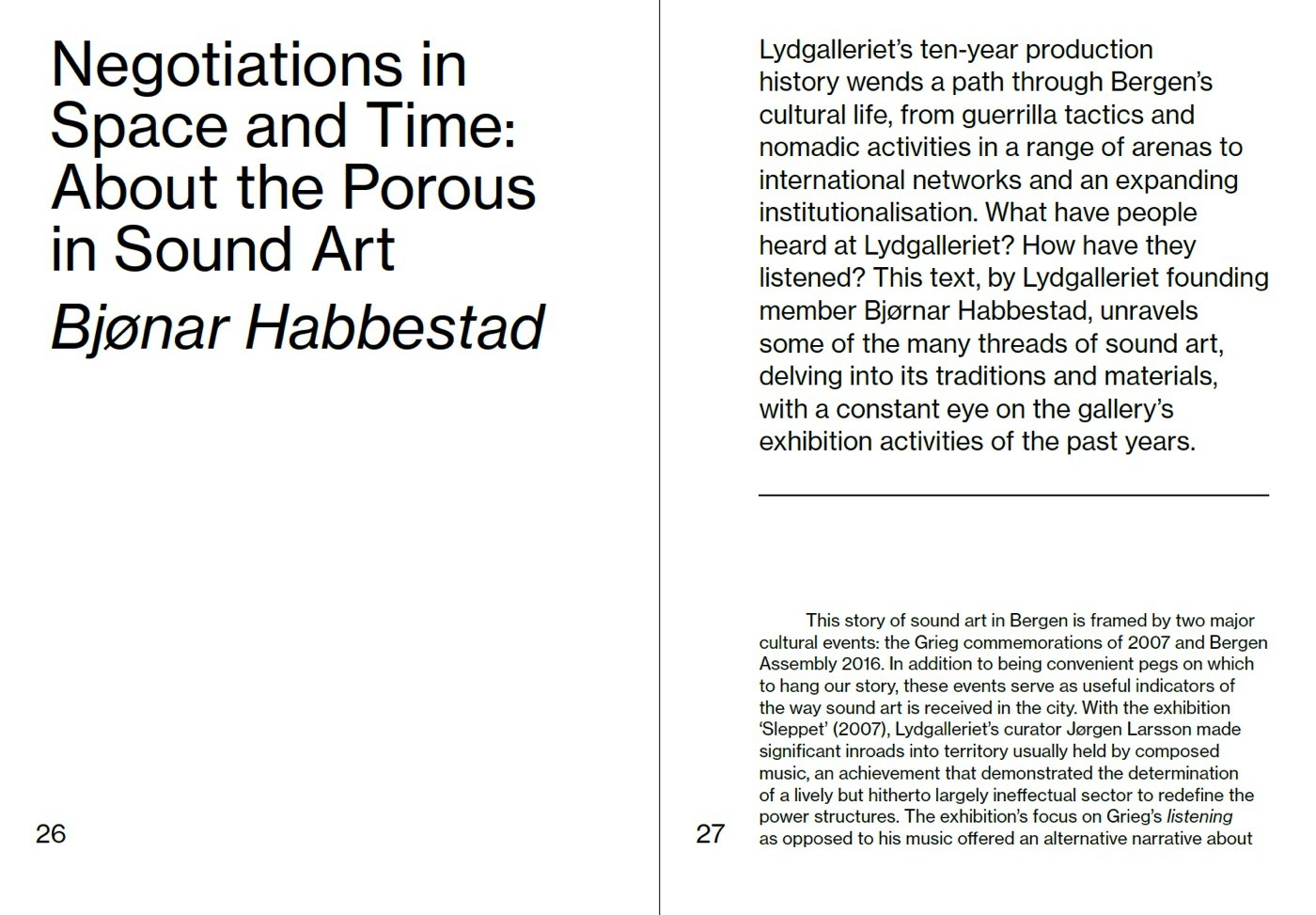 AN AUDITORY SPACE explores the place of sound within contemporary art. Sissel Lillebostad starts with a text charting the various locations in which exhibitions took place, as a space for sound art was established. A conversation follows in 'The Perfect Space: Low Threshold and Loud Sound', focusing on various key exhibitions that shaped Lydgalleriet's form and purpose. Hild Borchgrevink closes the chapter with 'Outside the Sound Gallery', which presents an in-depth survey of sound art in public spaces in Norway.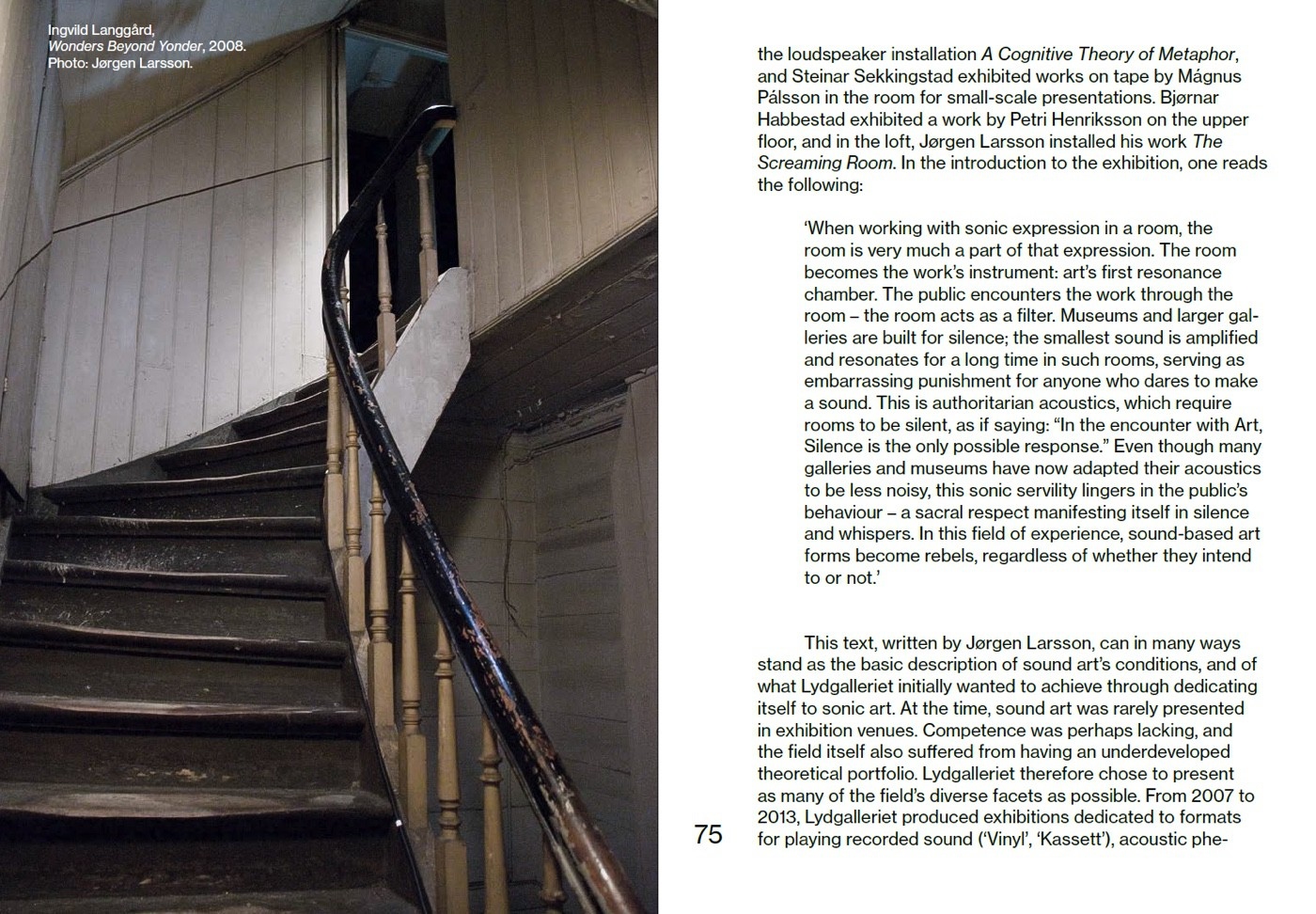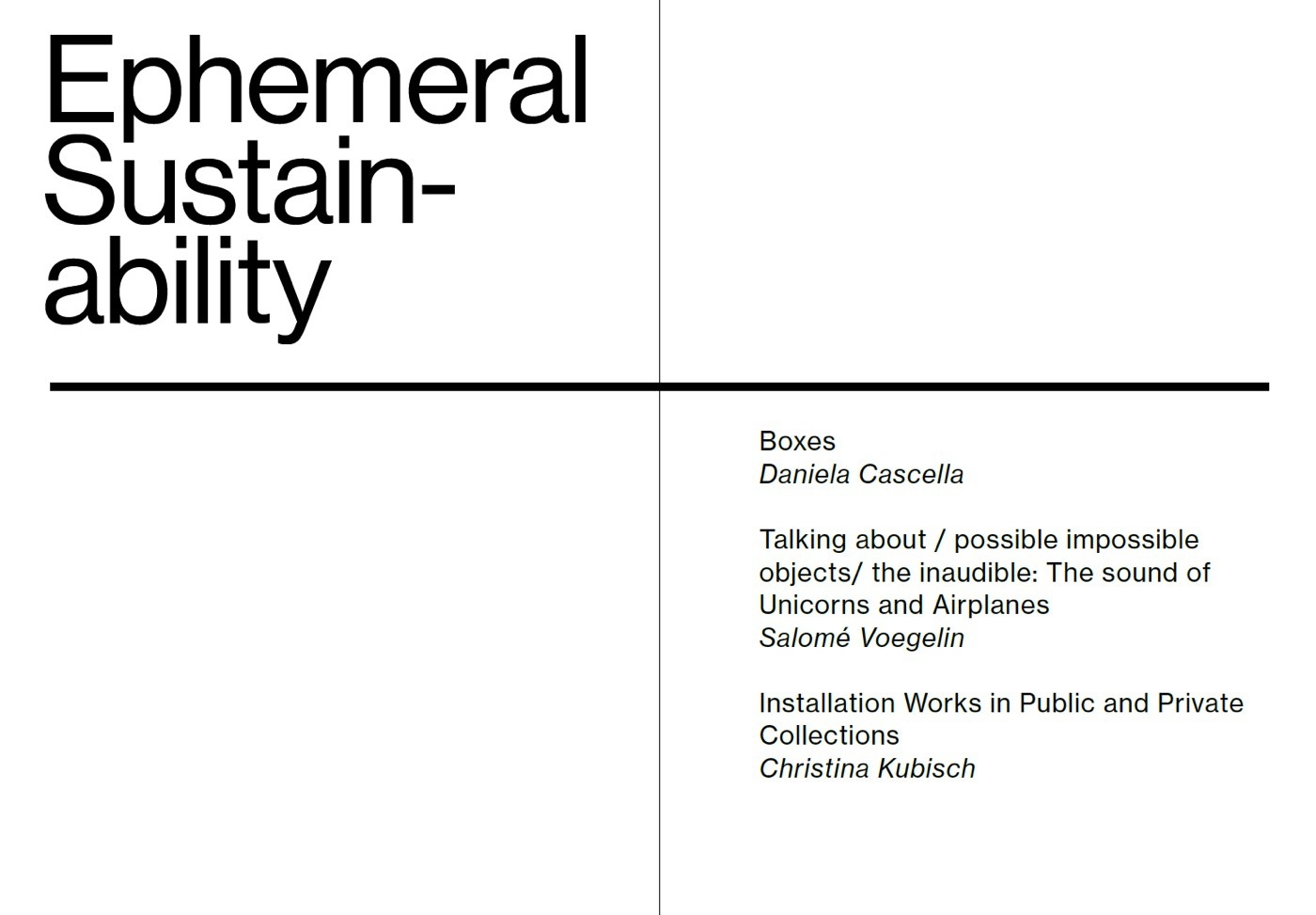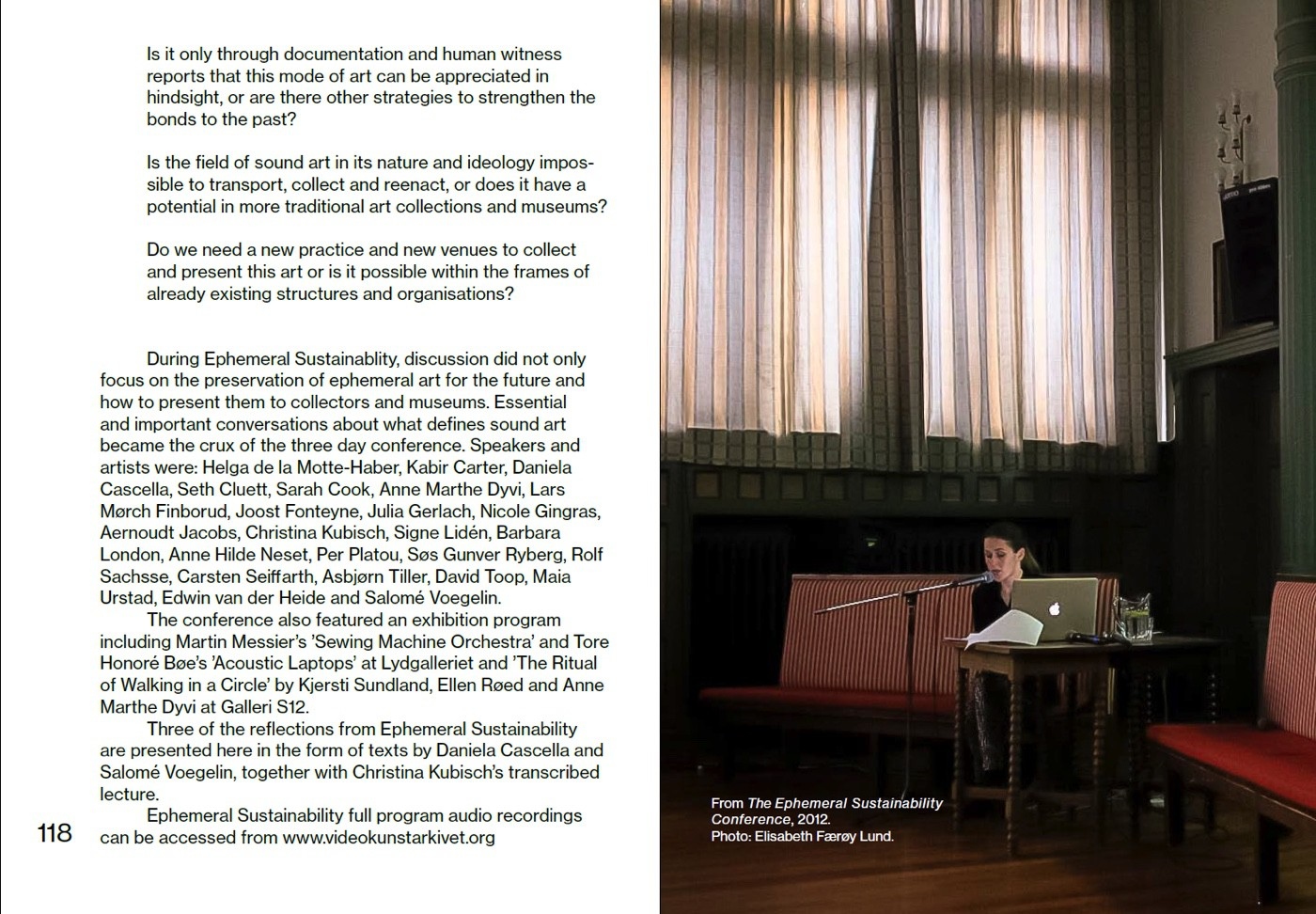 EPHEMERAL SUSTAINABILITY contains texts and ideas that emerged from the Ephemeral Sustainability Conference, hosted by Lydgalleriet in 2012. 'Boxes' from Daniela Cascella is a deep delve into a personal archive of books and mixtapes, focusing on the act of writing sound itself. Salomé Voegelin charts the world of sound art and possible impossible objects in 'The Sound of Unicorns and Airplanes', and Christina Kubisch follows with a discussion on some of her sound installations that reside in permanent collections around the world.
Taking a step beyond the gallery, AN EXPANSION OF THE SONIC contains three poetic investigations into sound art's fluctuating boundaries. In 'Exercises in Non-human Listening', Espen Sommer Eide introduces the conceptual roots behind his exhibition Imaginalia revisited, looking at various ways of seeing and listening in multiple forms of living beings. Lydgalleriet writer-in-residence Samuel Brzeski's text 'Sonorous Figures' focuses on the vibratory, rhythmatic and throbbing nature of collective sonic experiences, and was written in response to Beatrice Gibson and Keith Harrison's performance Ecstatic Material. In 'Conversations, Scripts, Traces', Roar Sletteland elaborates on cycles of time and silent pasts in response to the work of Signe Lidén.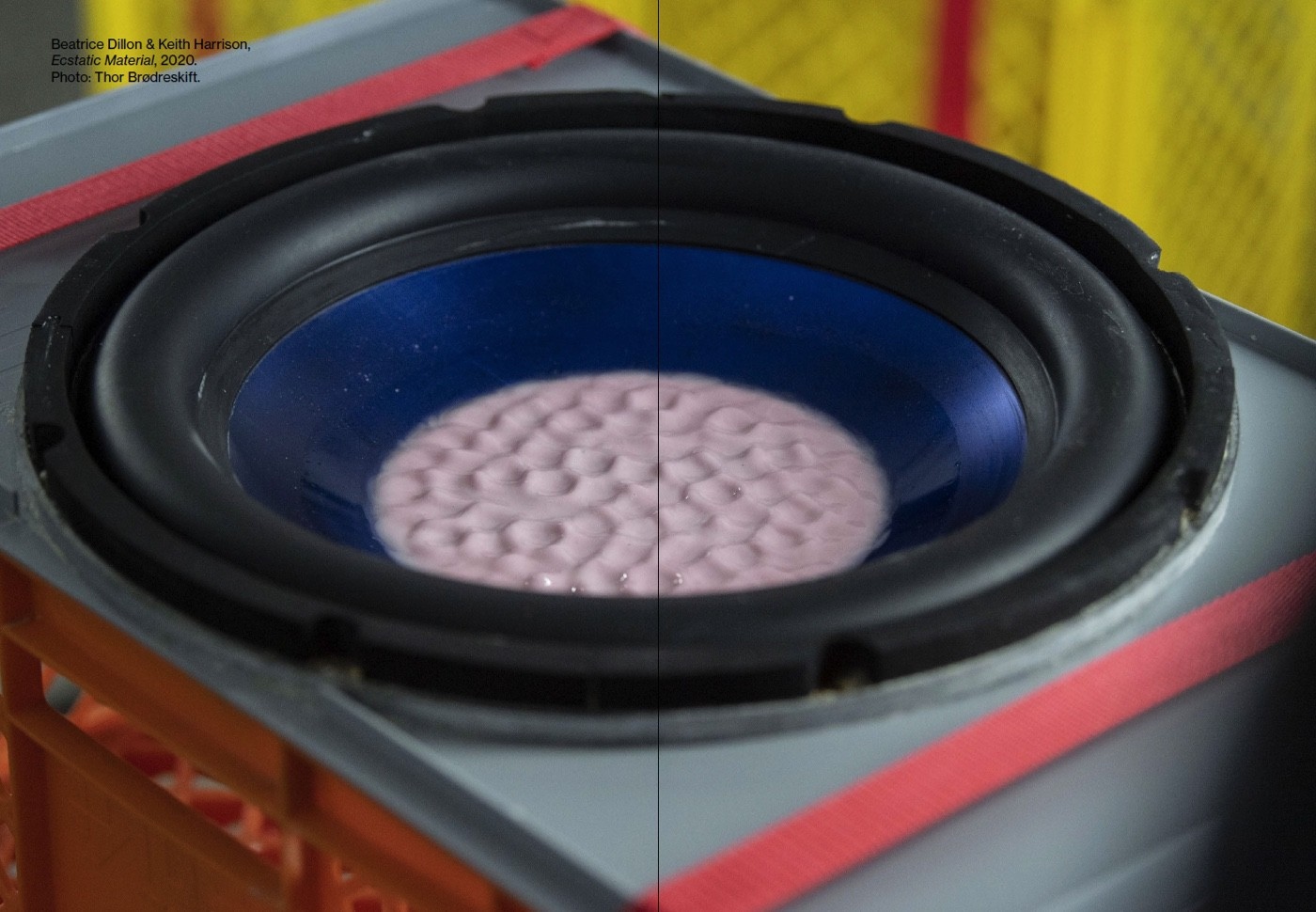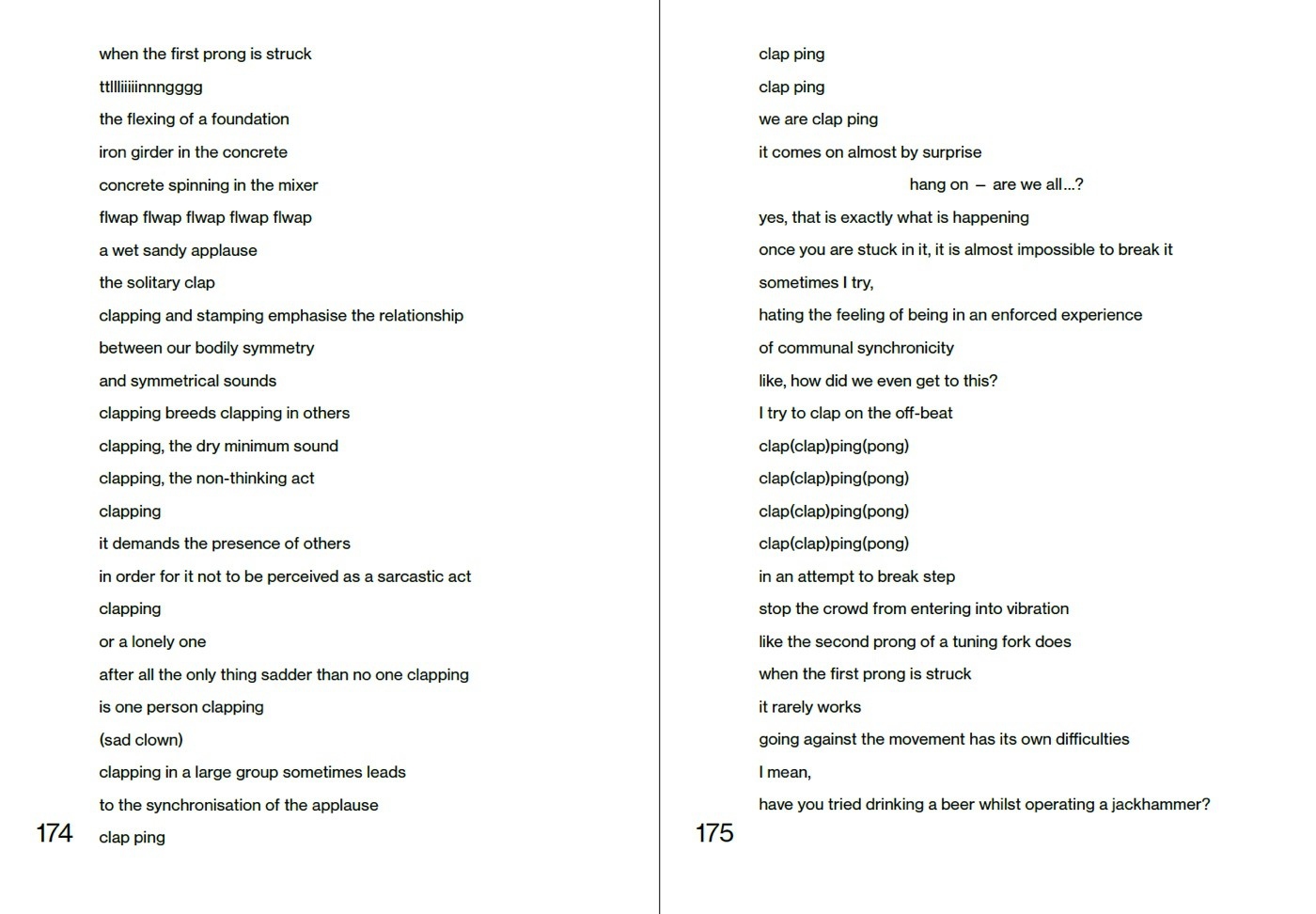 The book also contains a Foreword co-authored by past and current directors Sissel Lillebosted and Julie Lillelien Porter. Throughout the book, multiple high quality images document the varied projects, exhibitions and events hosted by Lydgalleriet throughout the years. Finally, the book closes with an Appendix that contains profiles of four artists who were key to Lydgalleriet's development in the early years – Jana Winderen, Maia Urstad, Christian Blom, and Natasha Barrett – as well as a full historical listing of the gallery's activity since 2005.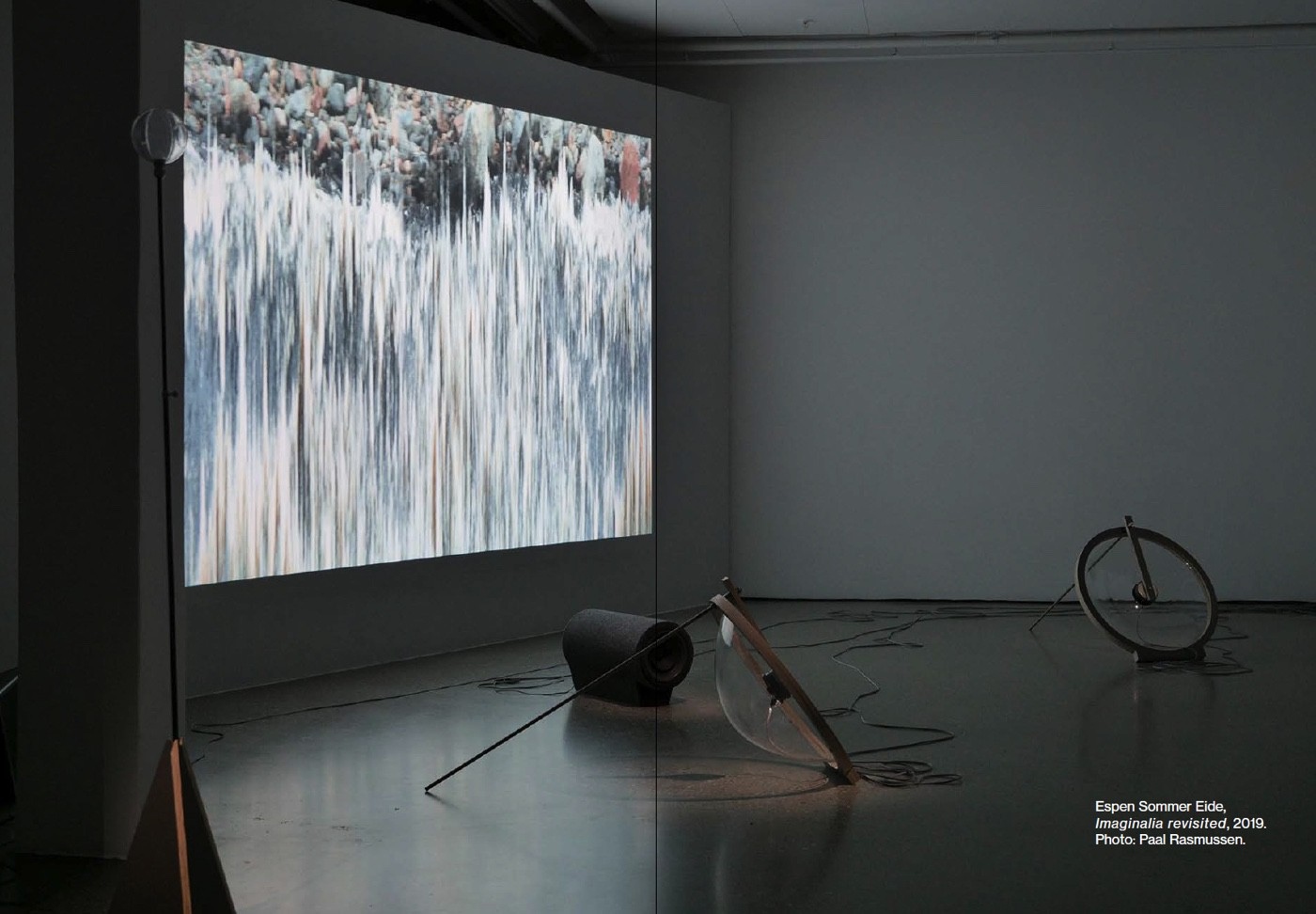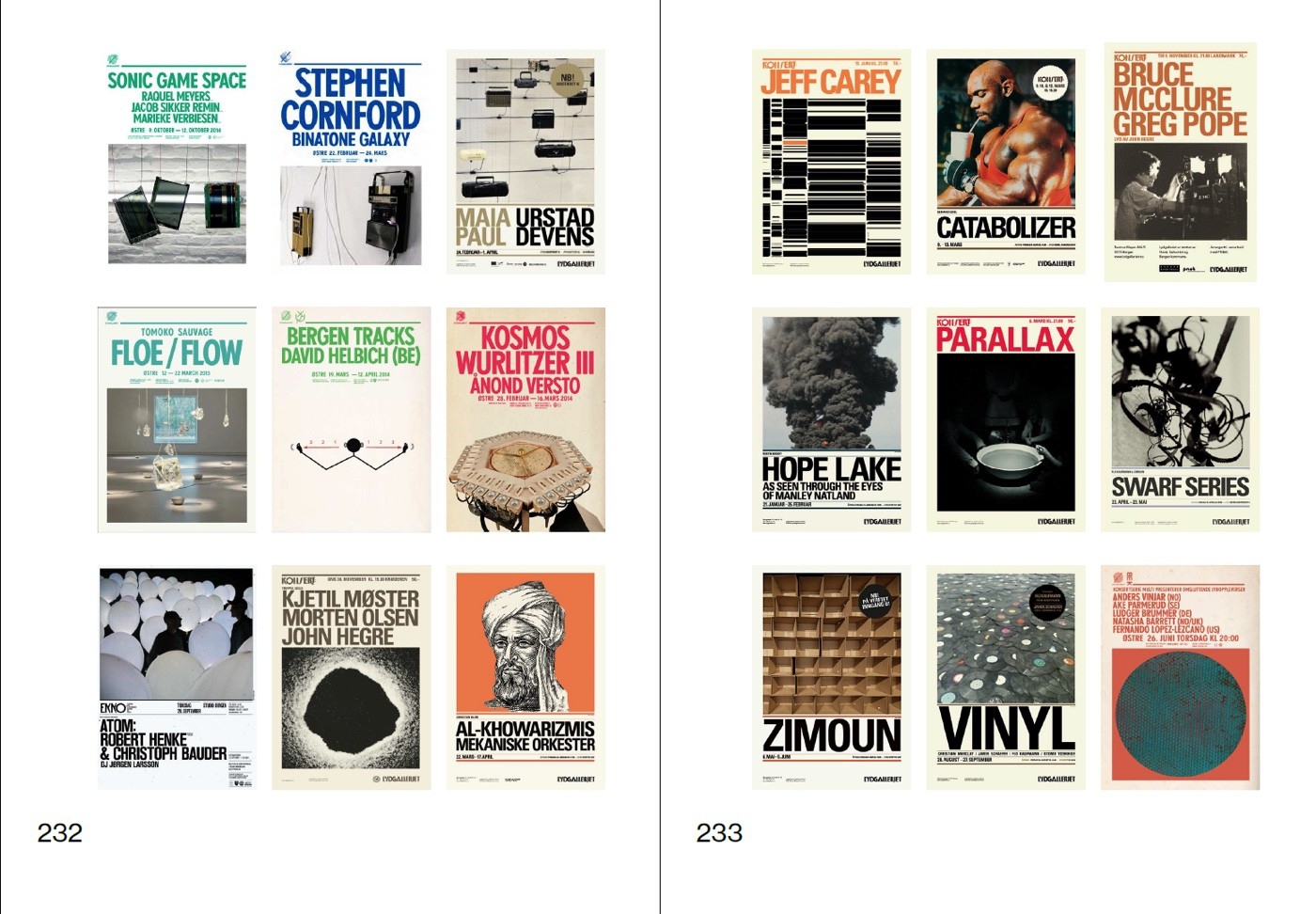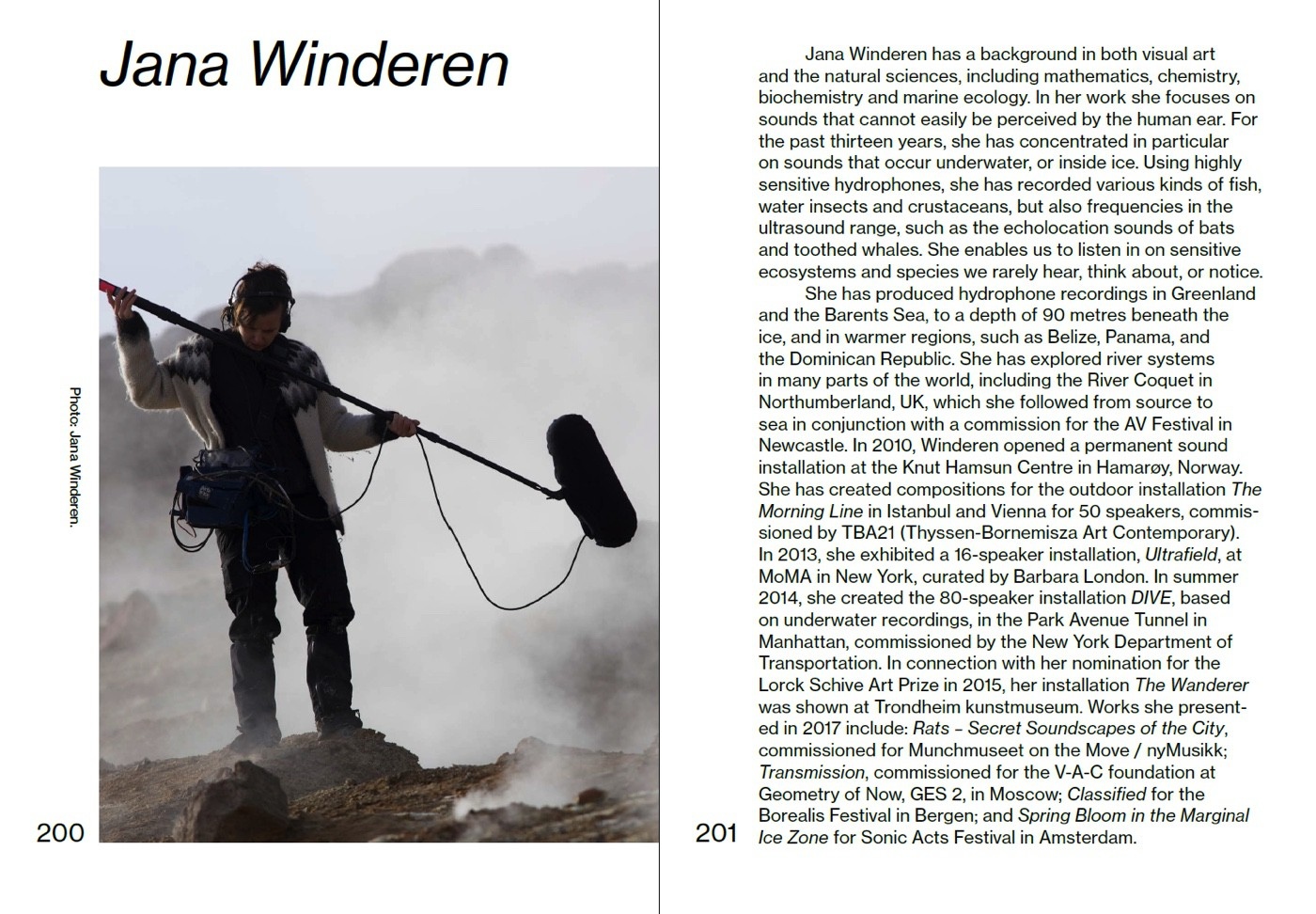 This book was collected and edited by Sissell Lillebostad, Julie Lillelien Porter and Samuel Brzeski, and designed by Blank Blank.
Support for the project was kindly provided by Bergen Kommune, Norsk Kulturrådet (Arts Council Norway) and Office for Contemporary Art Norway.
The book can be read and downloaded freely at retrospective.lydgalleriet.no.