BERGEN ART BOOK FAIR 2018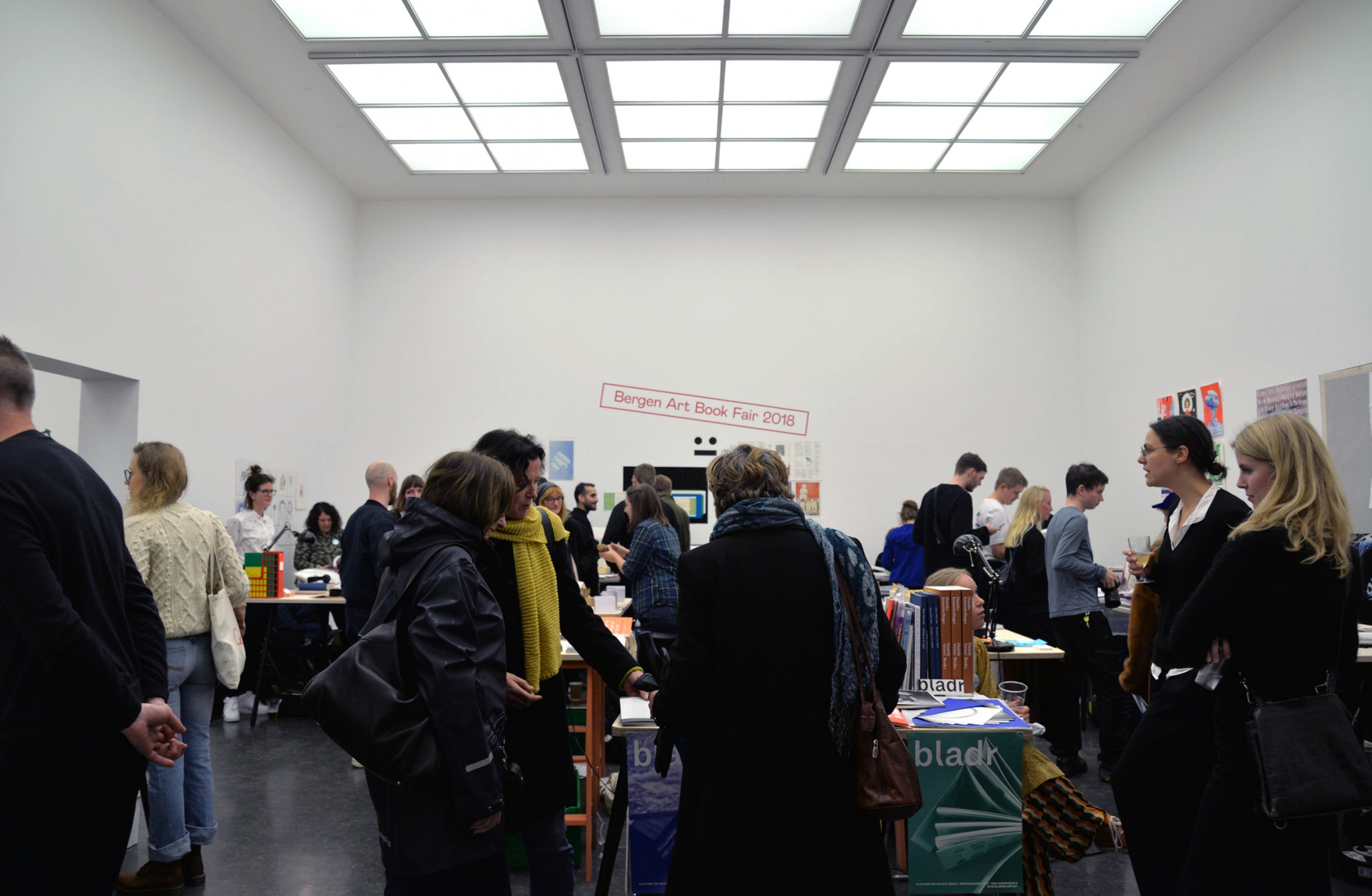 The 6th installment of BABF happened on November 1–4, 2018, and for the 3rd time at Bergen Kunsthall, presented by 52 exhibitors. The fair organized its first all-day seminar; Modes of distribution, at KODE 1 (Bergen Art Museum). Programme also included 15 mins presentations by 8 artists/publishers at the opening night at Landmark. 1600 people visited the fair during the 4 days.
GUESTS
Nordic Art Press, Bladr, Gloria Glitzer/We Make It, Lars Müller Publishers, San Serriffe, Heavy Books, Mondo Books and Issue Press. SEMINAR: Lars Müller/Lars Müller Publishers (Zürich), Pieter Verbeke and San Serriffe (Amsterdam), Moritz Grunke and Gloria Glitzer (Berlin), Mari Kanstad Johnsen and Nordic Art Press (Oslo), Axel Wieder, the director of Bergen Kunsthall (Bergen), Tine Semb, Anne Szefer Karlsen, Kjetil Røed from Billedkunst (Bergen/Oslo), and a performance by Leif Høghaug (Hadeland).
EXHIBITORS
Bergen Kunsthall, Fakultet for Kunst, Musikk og Design, Universitetet i Bergen, Blokk Forlag, Geir Egil Bergjord, Geir Haraldseth, Perdita Metabuk, Norsk Risoforening, Lydgalleriet, Plutut Chouette, Siri Ahmed Backstrøm, Portmanteau Books, Ola Lysgaard, Ulla West, Codex Polaris, Oficyna Peryferie, Coda Press, Askeland Bok & Papir, Summer Forest X Ju Hee, Centrala, Kunstforum, Till Cremer, Billedkunst, Jessie Churchill, Severina Sars Museum, Edizione Multicolore, Kunsthøgskolen i Oslo, Lord Jim Publishing, Michael Crowe, Topos Bokforlag, Bergen Ateliergruppe, Norway Stamp, Pseudonym Publishing, Risotop Verlag, Anders Elsrud Hultgreen, Temelin Press, Valgfri Virkelighetsoppfatning Forlag, Per Jonas Lindstrøm, Ingrid Bjørnseth, Malin N. Overholth, Anette Friedrich Johannessen, Micro Library Books, Kay Arne Kirkebø, Kaffi Fanzine, Cph Flip Book Nest, Anngjerd Rustand, Floriane Grosset, Bladr, Gloria Glitzer/We Make It, Heavy Books, Mondo Books and Issue Press
MUSIC/PERFORMANCE
The Waterhole, Slim Kerk
Funded by Bergen Municipality, Norway Art Council, Hordaland County Council, Trafo and Grafill Bergen.

All photos by Thanee Rene